Home
Do I need to keep my MAST permit with me when I work?
Yes. You must have your Washington MAST permit and a valid form of ID with you any time you perform duties that include the sale, service or handling of liquor. Your permit must be presented with supporting ID if requested by a law enforcement officer.
The MAST permit is your property, not the property of your employer.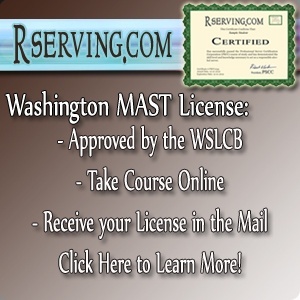 With Rserving, you can get your MAST permit by taking an online training course. Our training is approved by the Washington State Liquor and Cannabis Board, and it's available anytime - 24/7 - through our website. It's affordable alcohol server training that fits your busy schedule. Click the image above for more information.