Home
Washington Workplace Harassment Prevention Information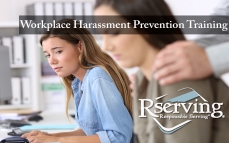 Employers
Register Here:
Sign Up - Free Employer Account
If you are an employer,
Sign up for an employer account
to purchase training for your employees:
Discount pricing for bulk orders:
0-100 courses for $3.99 each
more than 100 courses for $2.99 each
This course is designed to train employees about what behaviors are and are not acceptable in a work environment.
This training will cover:
What sexual harassment is
How to report sexual harassment in your work place
How to report sexual harassment to an external state or federal agency.
How to intervene when observing sexual harassment
How to prevent sexual harassment
With the knowledge this training provides all employees can engage in appropriate workplace behavior. It is important to provide a healthy work environment that provides an atmosphere of respect and equal opportunity.

Workplace Harassment Prevention is also available through the following offer: